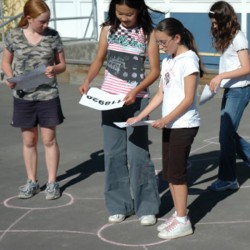 Looking for STEM (Science, Technology, Engineering, and Math) program ideas to try at your library? Make sure to check the STEM Activity Clearinghouse — it's full of high-quality STEM activities that are appropriate for library use.
You can search the Clearinghouse for activities that have these attributes:
mess level (low, medium, or high)
cost of materials ($0 as in "found" items; $1-$5, $5-$10, $10-$20, and $20 and up)
age group (ages 0-2, pre-K, early elementary, upper elementary, tweens, teens, adults, all ages, and family)
time to complete an activity (under 10 minutes, 10-20 minutes, 20-40 minutes, 40 minutes to 1 hour, and upwards)
prep time needed (under 5 minutes, 5-10 minutes, 10-20 minutes, 20-40 minutes, 40 minutes to 1 hour)
difficulty (easy, medium, or Rocket Scientist)
content area (engineering, physics, math, technology & computing, chemistry, astronomy & space, earth science)
Nearly all the activities in the Clearinghouse have videos or photos of library staff doing hands-on programs with their patrons of all ages. Activities developed outside the STAR_Net Project will include tips and tricks for implementing in your library, and will link you back to the original source content so you can explore more.
This resource is provided by STAR_Net (Science-Technology Activities & Resources For Libraries) and Cornerstones of Science, and was made possible in part by the Institute of Museum and Library Services (IMLS).